Bikemap's map styles
Bikemap's Basic map style shows all cycle paths and important places like bike shops, ATMs or public toilets. You can also find restaurants, cafés and bars as well as supermarkets mapped there.
Cycle paths are displayed as green lines. Depending on the zoom level international, national or regional cycle paths are visible on the map.

Find a more detailed legend to Bikemap's maps here.
In addition to the basic map, other map styles are available. Find out how you can choose between the different map styles in the following.
Changing the map style

Using the route editor on our website you can choose between the following map styles:
Free map styles:
Basic and OpenStreetMap
Premium map styles:
3D, Satellite, Night, OpenCycleMap, Atlas, Outdoors and Landscape

In the app you can choose between the following map styles:
Free map styles:
Basic and OpenStreetMap
Premium map styles:
3D, Satellite, Night, OpenCycleMap, Atlas, Outdoors and Landscape
You can switch between the map styles by tapping the map layer icon on the right-hand side.
Dark Mode: Now the Basic and 3D map styles automatically adapt to the Dark Mode settings of your device. Make sure you have Dark Mode enabled on your device to use this feature.


Global Heatmap
This feature, derived from data within our community, visually showcases popular biking routes on the map. An illustration of more than 500.000.000 km of route data which were planned, recorded and uploaded by our users, you can easily enable or disable the Global Heatmap in the map style preferences in the app or while planning a route on the website. Toggle it on for insights into frequently traveled paths worldwide, or keep it off to concentrate solely on your chosen route.
About the map styles
In the app and on the website the map style "Basic" is primarily displayed. Find out detailed information about the other map styles available in the following:
3D
This map style is based on Bikemap's basic map and is the most suitable for those who like to cycle off-road. Mountainous areas can be easily recognised and are marked by contour lines (visible when zooming in) that provide information about the elevation and steepness of the area. As in the basic map style, bike paths are marked in green here.


Ultra 3D: The 3D map style on the website has recently been updated and now allows for more detailed terrain information. You can now visualise the elevation of the terrain when planning your next route.
In order to view the map in Ultra 3D, hold down the "Control" key on your keyboard, click anywhere on the map and drag the mouse upwards at the same time. Repeat the process, this time dragging the mouse down, to return to the regular 3D view.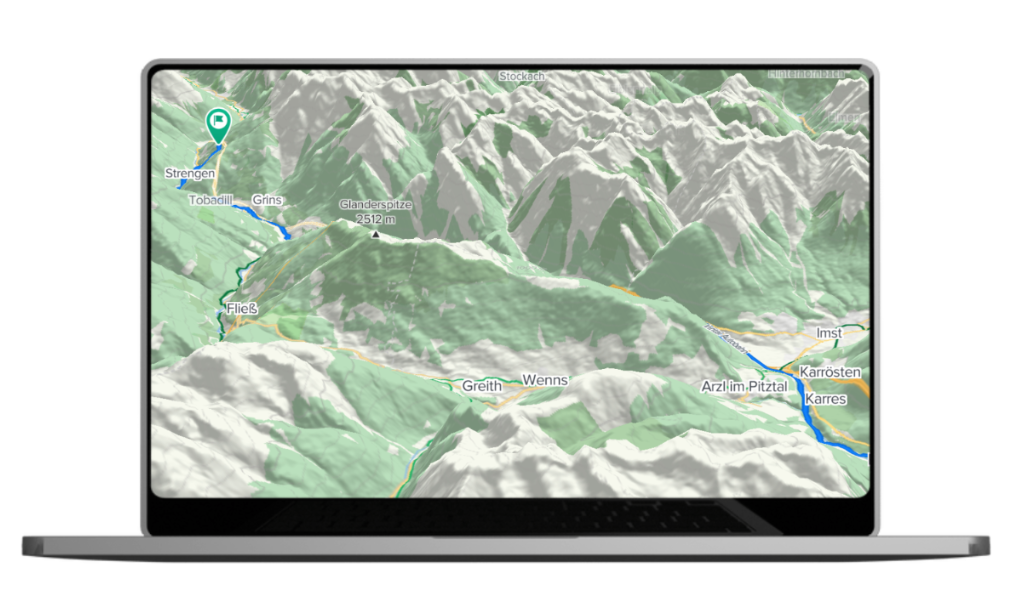 Night
The Night map style is a dark map that leaves out most of the colours. This map style was developed primarily to support the dark mode on smartphones and helps to save battery. Cycle paths and lanes are also shown in green here.
OpenStreetMap
OpenStreetMap is a project in which geospatial data are collected and mapped by local people around the world. The resulting map contains extensive and up-to-date data on streets, paths, shops and much more.

Open Street Map has posted a complete map legend online which you can access here.
OpenCycleMap
OpenCycleMap is based on OpenStreetMap and shows a network of national (red), regional (purple) and local cycle paths (blue) upon zooming out. When zooming in and taking a closer look, cycle paths are represented by blue dashed lines. Additional information relevant for cyclists, such as bike shops, drinking fountains, shelters and public toilets, is illustrated and labeled by symbols.

OpenCycleMap is ideal for planning longer bike trips. You can find a map legend here.
Atlas
A clear map style for both navigation and local context. This is a rather minimalistic map style that should provide a good local overview. In addition, all cycle paths are shown in green and are therefore clearly visible.

Outdoors
Aimed at the outdoors enthusiasts and nature-loving users - apart from cycle paths this map style also displays hiking routes and many useful points of interest. Terrain is particularly easy to recognise here.

Landscape
Represents especially the rural area well. This map style highlights natural features and is therefore interesting for tours outside the city.

Satellite
This map shows satellite imagery with street names and important points labeled additionally. It provides information about the actual appearance of the area. Switching between other map styles and this satellite image map gives you a detailed glimpse into the area's features.